Removing rubbish from your home or garden can sometimes feel like a bit of a minefield. Many recycling centres are now incredibly strict when accepting rubbish, insisting that it is correctly sorted into individual bags. Additionally, if you need to remove a lot of rubbish and own a commercial vehicle, you may be denied access to your local centre as you'll be classed as a professional customer. This will then force you to use alternative facilities and pay a premium.
A Professional Rubbish Removal Service
Hiring a professional waste removal service is a convenient solution to the build-up of rubbish. The waste carrier will be fully licensed and will know how to dispose of your rubbish safely and follow regulations, including hazardous waste, electrical waste, and environmental standards. The staff will be specifically trained in handling hazardous waste and the importance of ensuring the area is clean after removal. They will also be able to remove large or heavy items with ease, having access to a team of staff and appropriate vehicles, saving you the cost of hiring a van.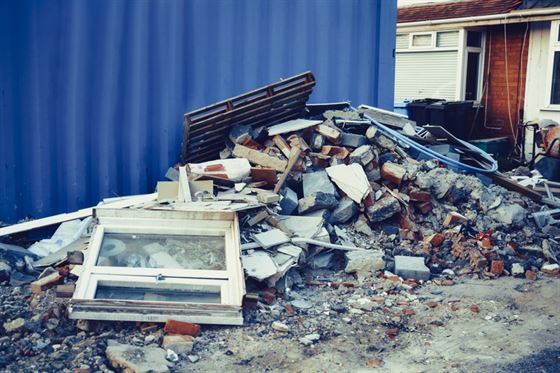 Regardless of whether you're generating different types of rubbish (e.g. a kitchen refit may have old tiles, ceramics, wood, and electricals) a knowledgeable company will be able to offer you the right solution for your needs, ensuring efficiency throughout the removal. Most importantly though, hiring a professional service will save you a lot of time and effort.
What To Look For In A Professional Rubbish Removal Service?
When choosing a rubbish removal service, do not be tempted to ignore the large professional firms in favour of a cheap alternative whose credentials you are unable to verify. Fly-tipping is a huge problem in the UK and much of it is caused by unlicensed waste carriers who will dump your rubbish illegally. While this is morally wrong, it could also have implications on the person who "owned" the rubbish, as well as the person who dumped it. There are cases where the customer has been prosecuted as well as the waste carrier for illegal tipping, so always perform due diligence when choosing your rubbish removal service. Ensure they have the relevant licences and permits as listed on the government website. This will give you the peace of mind that your rubbish is being disposed of safely and there will be no issues for you further down the line.
The many benefits of using a professional waste removal service are clear to see, and the peace of mind they offer from potential legal issues when compared to an unlicensed carrier makes the service a good investment. If you would like to find out more about how we can help you, please get in touch today on 01295 710223 or head over to our contact page for more details.